As a naturally fickle person, this past week I eschewed ink-stained fingers and instead explored the current state of portable digital drawing. On Wednesday I attended a life drawing session with an iPad and my Adonit Jot Touch. This isn't the same pen that I was showing off last year, but an updated version that promised greater pressure sensitivity and a lower-power Bluetooth 4.0 connection.
Much like the previous incarnation, I liked the pen in theory, but I found it a bit clunky for loose sketching, since I seemed to have to apply more pressure than I ever would to a pencil or a stick of charcoal, or even an ink pen. But a recent update of my favorite drawing app, Procreate, seems to have resolved that. I can now sketch with a very light touch.
It made for a very fun figure drawing session; I got to experiment with all sorts of virtual media, keep my hands clean, and even see video playback of my drawing. Very cool.
Proving I have a gadget problem, this week I also happened to purchase a used Samsung Galaxy Note II. No, I haven't abandoned Apple; in fact, I purposely haunted eBay for a deal on this "phone," since I knew I only intended to use it as a pocket sketchpad and not an iPhone replacement.
Oh sure, there was the chance I'd end up loving it for more than just the pen, but my opinion of the Android operating system remains the same as when I tried out the larger Galaxy Note tablet. Unintuitive and clunky are the operative words.
There's also kind of a surprising dearth of decent drawing programs, even compared to the iPhone, which is almost impossible to draw on. After trying out several Android apps, I found the only decent one to be Sketchbook Mobile.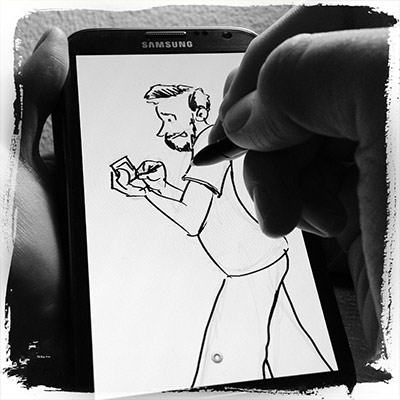 It's still too early for me to tell how much I'll like using the Note II, but I don't see any reason why it couldn't replace my usual pocket sketchbook.