And for my final shameless tracing, here's a panel from a series of strips in which Mickey attempts various methods of suicide. (Spoiler alert: he doesn't succeed.) This time I went with warm, comfortable digital inking.
My mom asked if I was getting arthritis from drawing too much; actually, I think what's happened is I've come to rely on my graphics tablet so much that I haven't developed a lot of manual dexterity. With digital, I can zoom in to my heart's content and use my whole arm to draw tiny details or letters.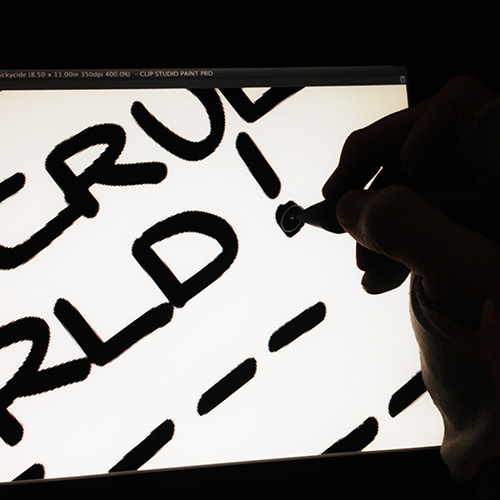 On paper, even if I'm drawing on a large scale, there are bound to be some details that require fine movement of the wrist and fingers.
One thing I discovered when taking my oil painting class is that I'm actually capable of some fine motor skills, but, in a way that's kind of hard to explain, I have to get in sync with my breathing. There's a certain pace at which my trademark wobble disappears, and I can hold a brush by its back end and paint an eyelash in the spot I intended.
I think there are a couple of factors at play. One, I tend to rush. Second, I pace myself better when I'm standing. I think tomorrow I'll try a round of conventional inking while standing, and see if I can't recapture some of that magic.